Kejriwal seeks 10 days to resolve problems of people in Delhi
New Delhi: A day after he took over as the Chief Minister of Delhi, Arvind Kejriwal is already finding himself in the deep end of governance.
The Aam Aadmi Party founder today asked for ten days' time to formulate a system to address grievances and problems of the people of Delhi.
Having come to power with the support of the aam aadmi (common man), Mr Kejriwal had during his oath taking ceremony yesterday asked people to get in touch with him directly to address their issues, especially corruption.
Around 150 people did exactly that this morning. Contractual employees of the Delhi Transport Corporation, people from the Valmiki community and teachers' association gathered outside his residence in Ghaziabad, where Mr Kejriwal is working today after a six-hour working session on his first day as chief minister.
The contractual employees had come to put forward their demand to end the contract system in these bodies. They also wanted that those working for several years should be made permanent.
The chief minister, who has a six-member cabinet of fairly young and inexperienced ministers, was forced to ask people to give him a week-ten days' time to set systems in place.
"I don't want to give you false assurances. I will take the application when we put a system in place to resolve the problems," he said.
He assured the visitors that he needed the support of the people to establish such a system and without their backing, he would not be able resolve issues.
"We have just assumed power. It will take us sometime, seven to ten days to put a system in place to resolve your problems," he said.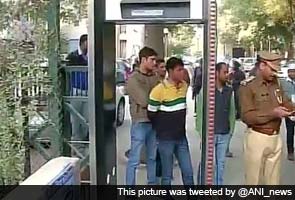 The chief minister, who has declined 'unnecessary' security, had to call in security from the Delhi Police in the name of crowd management.
The Delhi Police will now install a metal detector outside Girnaar Apartments, where Mr Kejriwal stays. Around 10 Delhi Police constables in plain clothes will also be deployed around the society premises and four constables from the Ghaziabad Police will guard and manage traffic outside.