FDI: India drops out of top 10 for first time in over a decade
MUMBAI: India lost its top ten position in the 2015 FDI Confidence Index, a survey of 300 countries conducted by A T Kearney. The last time the country had dropped out of the top 10 list was back in 2002.
In 2015, India ranked 11th on the list, down from the seventh position it held last year.US topped the list for a third year in a row.The top 25 countries' list was dominated by European countries – 15 out of the 25 countries on the list were European. Of the top 25 countries, three-fourth list of the list comprised of developed economies.
India had held the second position on the list for three years – 2005, 2007 and 2012.However, in the last three years, consumer confidence in India has fallen from rank five in 2013 to seven last year, finally tumbling to 11 in 2015.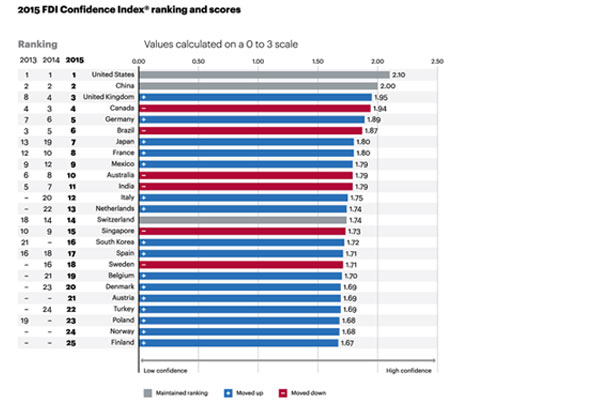 The slide in the ranking highlights that Narendra Modi's efforts to improve India's business climate on the global platform, with initiatives like the 'Make in India' campaign, have so far been unfruitful.
"As part of plans to boost economic growth and modernize the bureaucracy, Prime Minister Narendra Modi's new government launched the 'Make in India' initiative in September 2014, aiming to improve the ease of doing business in India, and remove or relax foreign equity caps in several areas", the reports says.
Despite this, the country's ranking has fallen by four places.
Absolute FDI numbers
However, if you were to consider the total FDI inflows into the country, the number went up to $35 billion 2014, up 26% from the previous year. In April 2014, UK-based Diageo doubled its stake in United Spirits Ltd for $1.9 billion.
Vodafone bought full control of its Indian unit for $1.5 billion, the first foreign carrier to gain full ownership since the government removed the 74% cap on outside ownership in the telecom industry.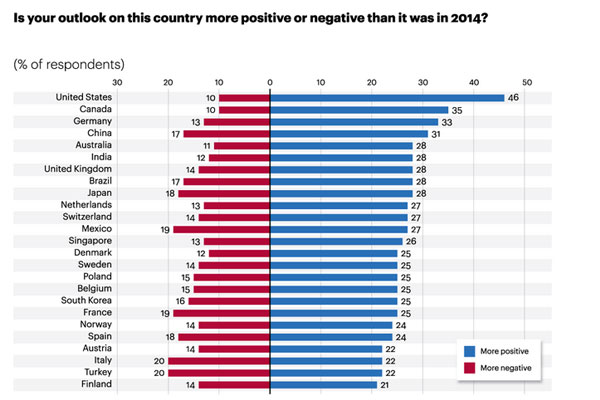 India's GDP may grow faster than China's this fiscal
Revised estimates indicate that India's GDP is expected to grow faster than China's in the current fiscal, and its consumer market remains significant, sparking broad investor interest, according to the report.
Overall, countries in Asia Pacific throw up a mixed picture for the region. — Japan rose to seventh position from 19th last year; and South Korea re-emerged onto the index at number 16 after dropping out last year. China was second for the third straight year and Singapore's ranking fell but it stayed on in the top 20 list.